Miscellaneous plated and/or solid precious and semi-precious metals that are most likely more valuable as scrap. Lot's of Gold-Plated (24-ct thick) and solid copper and brass...
Miscellaneous Military Insertable Pins Gold Plated.
Variety Of Old Components And Assembly Scrap Gold Plated.
Assorted Precious Metals Gold And Silver Plated Large Items.

Small Selection Of Brass, Copper And Aluminum Fittings Solid.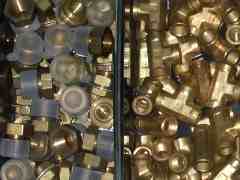 Many New And Used Connectors Some Without Pins Good Quality.
Numerous Components Some Pulls Others Taped Mostly New All Unsorted.
MIL-W-16878/E Teflon Wire Scraps Some Terminated On Exotic Connectors.
New copy.
9117